Panoramic/Cirkut
Panoramic and Cirkut photography make use of historic cameras in a modern context to capture natural and man-made landscapes.
There are modern small format cameras that are being used and touted as equivalent or better, and digital cameras and even camera phones now "pan," but nothing offers the fidelity, resolution, and tradition that these classics can reveal.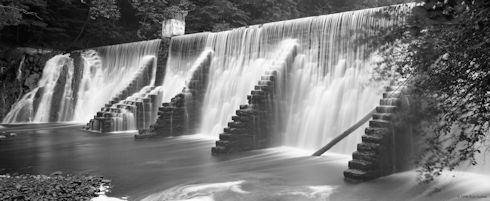 The Lake Solitude Dam was built in 1909 in front of an earlier dam, which is submerged and silted over now. It forms Lake Solitude in High Bridge, New Jersey by impounding the South Branch of the Raritan River. It and its predecessor were used to power America's oldest iron foundry, the Taylor Wharton Iron Works, which supplied cannon balls to the Revolution and train wheels throughout the Civil War. This photo was taken with a Korona 7"X17" Banquet Camera and Gold Dot Dagor 15" lens on Ilford FP4+ black and white film.


When completed [in 1932], the [3.5 mile long] Pulaski Skyway was the longest viaduct for vehicular traffic in the world and called "the greatest highway project in the United States today." In many ways it was a bold and innovative solution to the intense traffic problems of northern New Jersey caused by the building of the Holland Tunnel that it served and by the George Washington Bridge, just north. It was the product and subject of sophisticated traffic studies, the methods of which were developed "on the run" and became the basis for the field of traffic analysis and planning. It remains a vital component of the highway system and symbol of the courage and technological adeptness of Morris Goodkind and the New Jersey State Highway Department. - Richard M. Casella" The photograph was secured using an antique Cirkut #10 Panoramic Camera, which produced a 10" x 72" black and white negative in one broad, 180 degree sweep from the top of the Route 1-9 Passaic River Truck Lift Bridge.